Posted on September 23, 2015, 09:35:51 PM by
Jubal
Warhammer: Total War Patch Release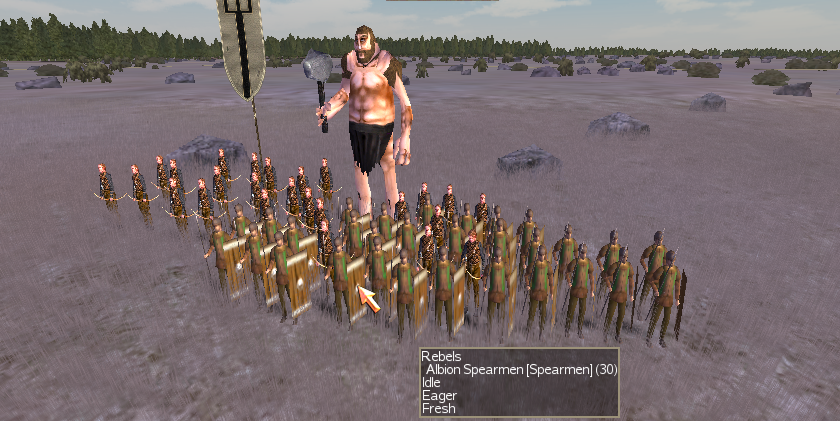 A new bugfix patch for the award winning Warhammer: Total War has at long last been released! This fixes several major issues with the "A Call To Arms" final release version to make the game more stable.

Find out more here.
...
Posted on August 28, 2015, 12:08:09 AM by
Jubal
Exilian Spoken Storytelling Forum Opens
Spoken storytelling is a personal passion of mine, and I'm very pleased to announce the opening of Exilian's new forum for promoting, discussing, and teaching the ancient art of storytelling! Spoken stories have for much of human history been the main way of transmitting information, values, and ideas from person to person, and our new area will help keep that tradition alive.

The new forum includes a general area which will include discussion and tutorials, for beginners and more advanced tellers alike to swap advice and ideas. There's also a specific section for tellers' stories, where people can share tales specifically designed for telling, comment with their experiences telling particular tales, and help improve one another's' repertoires! Even for those who aren't tellers themselves there'll be a lot there of interest for how stories are structured and the use of voice in telling them, not to mention the stories area which could be a great source of inspiration for other projects.

All in all, this should be a great new resource, and we hope you will take a look and make use of it.
Find out more here
...
Posted on August 25, 2015, 10:42:17 PM by
Jubal
Creative Hub Opens
Welcome To The River Docks
A New Creative Hub For Project Teams and Management

I'm really pleased to be making this post, because this is, I think, one of the most important expansions we've made in a long while. The River Docks is going to be a new forum for really giving generalised support to the many projects we host here, in a wide range of crucial areas. That includes people getting new avenues to find and share skills, spaces to create and discuss new ideas that cut across boundaries laid down elsewhere on the site, and resources and discussion on important aspects of creating, managing, funding, and organising projects.

What will the River Docks include and what can you do there?

An area where people can list their skills and availability to work on projects, both as hobbyists and professionals

You'll be able to post asking for advice on legal and copyright issues with what you're working on

It's an area to discuss project management, which will include crowdfunding techniques

Room for throwing together new ideas and projects that mix up skillsets in new ways

A subforum to allow people to advertise for skills and members for their teams, for both paying and hobby projects

The Dockland Tutorial Base, which will contain user-written information on everything from kickstarter to creative commons, team management to marketing
I'm very excited by this new move for us, and hope it will let us add a lot of value to what we can offer all sorts of people and projects on the Exilian. Do go along and check it out as it takes shape over the next few days!

Visit the docks here!
...
Posted on August 22, 2015, 02:50:50 PM by
Jubal
Exilian Jam 2015
Exilian Game Jam
11-13 September 2015
Welcome to the first Exilian Game Jam! The theme is RANDOMISATION - that is to say, your theme will be two randomly generated nouns, handed out to you at the beginning of the contest. The Jam costs £3 to enter, and has a prize pot that will depend on the number of entrants. Part of your entry fee will also go to Room to Read, a great charity supporting boosting literacy skills in the developing world.

To enter, you need to have an account and PM Jubal (that being me who is posting this) - I will send you the entry fee payment details. Your being an entrant will be confirmed after payment is received; you can sign up anytime from now until September 10.
---
The Full Rules
At least one member of each team entering must have an Exilian account to enter, as contact with the organisers (aka me) will be done via the Exilian PM system.
There is a £3 entry fee. This is split with £2 going into the collective prize pot, £0.50 going to support Exilian, and £0.50 going to the charity Room to Read.
You may make multiple submissions, but need to pay a separate entry fee per submission.
There are no limits on the number of members of your team; at least one team member must have an Exilian account for the reasons noted above.
You may use pre-made game resources, but only ones that are freely and publicly available to all other contestants. You should declare these and their sources when submitting your game. This includes game engines, but does not include ancillary programs (so you may not use a for-payment game engine in your game, but there is no requirement that you only use free software to make the resources you use during the jam).
Each entry's theme will be two randomly selected nouns. These will all be publicly published along with a list of the entering teams shortly before 8PM GMT, Sep 11 - teams will not be informed of their words prior to this point.
You may not start making your game before 8PM BST, Sep 11. Any breaches of this rule that are discovered will lead to immediate disqualification.
You must submit your game before 11PM BST, Sep 13.
You retain full ownership over entries submitted, with the proviso that to be eligible for the prize vote they need to be available for free for voters to play.
Hosting of entries for submission is broadly the responsibility of the entrants, though Exilian is willing to provide help where possible and reasonable.
The entries will be voted on in a public vote, where everyone who has an Exilian account, including entrants, is eligible to vote. New accounts made during and shortly prior to the voting period, which will cover approximately 1 week after voting closes, will be individually checked for IP violations and account spam; any contestant found to have attempted to rig the voting will be immediately disqualified.
The prize pot will be split between the top 3 entries, with 60% going to the winner, 30% to the second placed entry and 10% to the third placed entry.
...
Posted on August 15, 2015, 10:48:14 PM by
Jubal
Forgefyre Chapter Two Begins!
What's that you can see before you? It can't be, surely. It's been so long...

But it is!

Forgefyre, Chapter Two, penned by Jubal (James Baillie), and accompanied by the striking artistic talent of HannahM (Hannah Milburn), has now officially started updating! The story continues with our two main characters finding themselves in a mystery that walks straight out of the past... there will be many new characters along the way, and more detail about the world. Updates are now even more regular too, coming every Monday and Friday!

As ever, you can explore the rest of our website for more details about the setting of ForgeFyre - we're hoping to expand this a lot more in the coming months.